Winter Club Nights
The winter club nights will resume on 8th October. Current schedule is
SIV 2018 - or how I learned to stop worrying and love the dive
Monday, 14 Jan 19, 7:30 PM - 10:30 PM
The Sea View, 2 Preston Road, PR6 7HH Chorley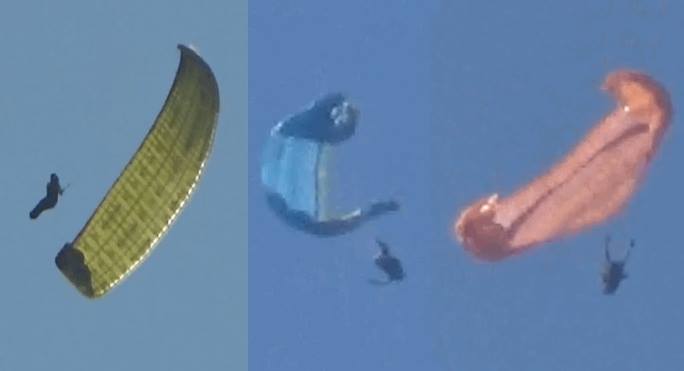 Last September, 4 PSC members plus a far-flung brother travelled to Oludeniz for an SIV course with Jocky Sanderson. Join us as we show some of the highlights and lowlights. Share the fear! Laugh at our failings! Go "ooooh" as it all gets in a horrible mess! And hopefully we can all learn something to be a bit safer and more confident.
Monday 12th November 7:30pm
Richard Carter to give us an exciting talk about his epic 300k flight.
Report: PSC Social Night 12th November 2018 - Richard Carter's 300Km Flight
Monday 10th December 7:30pm
Jocky Sanderson will be showing footage of various SIV manoeuvres, from deflations to spins, stalls and spirals etc, and talking through finer points of glider control and handling, giving tips on what pilots can do to practice skill sets and improve on the performance and safety handling of their gliders.
Report: Jocky Sanderson SIV Evening
Pilot Revision Nights
For anyone that wants to do their pilot rating we have three revision nights arranged, they are all at the Sea View Inn 2 Preston Rd, Whittle-le-Woods, Chorley PR6 7HH starting at 7.30pm and are:
Monday 19th November - Air Law by Richard Butterworth.
Monday 26th November - Weather by Phil Wallbank.
Monday 3rd December - Flight theory by Brian Stewart. (Download files)
If you haven't already contacted me, please let me know on This email address is being protected from spambots. You need JavaScript enabled to view it. if you want to come to the revision nights and send me your BHPA number if you want to take the exam. John Murphy
Longridge Road Closure
If flying Longridge in the next few weeks please be aware of the following road closure. If you get it wrong it could cause you an 8 mile round trip!!
LANCASHIRE COUNTY COUNCIL
(FORTY ACRE LANE, LONGRIDGE, RIBBLE VALLEY BOROUGH) (TEMPORARY PROHIBITION OF THROUGH TRAFFIC) ORDER 2018
NOTICE IS HEREBY GIVEN that Lancashire County Council have made an Order under Section 14(1) (a) of the Road Traffic Regulation Act 1984, as amended, the effect of which will be to temporarily prohibit traffic on the roads set out in this notice.
1. No person shall cause any motor vehicle or cycle to proceed over that length of Forty Acre Lane, Longridge from its junction with Up Bedlam Road to its junction with Birks Brow.
2. The prohibition will be operative daily from 0700 hours and 1600 hours from Monday 12th November 2018 until Friday 30th November 2018 or until completion of works within this period.
3. An alternative route for vehicular traffic affected by the closure is via:- I. Birks Brow – Four Acre Lane – Longridge Road – Up Bedlam Road – Rock Brow and vice versa ii. Rock Brow – Thornley Road – Longridge Road – Birdy Brow – Old Clitheroe Road – Higher Road – Forty Acre Lane and vice versa
The temporary prohibition is necessary to allow carriageway resurfacing works to be carried out.
PSC Christmas Do
Sun 9th Dec at 17:30 – Bistrot Pierre, Preston(map) – 2 min walk from Preston Station, taxis, buses and car parking
The 3 course meal is £27.95/head - there is a choice of starters, mains & deserts with vegetarian and gluten free options.
Christmas Menu: https://bistrotpierre.co.uk/menus/christmas-dinner
For those who want to come along we will need your menu choices by end Nov – see link above. We are limited to 20 people for the meal so places will be on a first come first serve basis (past experience shows that 20 is about the max we get).
If members prefer not to eat at the restaurant but want to join later for drinks that is an option and I would imagine we'll be frequenting some of the local hostelries by around 19:30 – 20:00 pm.
If you wish to attend please email This email address is being protected from spambots. You need JavaScript enabled to view it. with number of attendees and your food order.  
Fly Safe
The Fly Safe update for August is now available.
Flying at Parlick - what you must know.
In addition to what is written in the site guide, recent actions by PG pilots have prompted the PSC to issue the following guidance to anyone flying from Parlick. Please read this carefully before going to Parlick.
1. Sailplane operations.
Bowland Forest Gliding Club tow launch from their airfield a short distance from the SW spur of Parlick: it is clearly marked on the air chart as launching to 3000' AMSL. It is imperative that you do not fly over their airfield or interfere with their launch or landing. This is a serious safety issue - your priority as a pilot is not to cause a danger to anyone. The linked diagram shows the location of the field: the orange rectangle marks the runway which is the critical danger area with a thin steel cable under high tension launching the gliders; the red rectangle is the circuit area, an indication of where you can expect sailplanes to be low and in a critical flight phase, either launching or on landing approach. They do not have our capability to quickly abort a launch or pick a different spot to land, so keep well away from this region unless you are well above 2000' AMSL. The blue circle indicates 1 km radius from the centre of their runway, and is to be avoided except when on landing approach. If you feel the need for more clearance from the hill to avoid turbulence, you need to be particularly vigilant in this region.
Pilots pushing out to Beacon Fell need to be aware that their flight path may take them into conflict with launching, landing or circulating sailplanes - once you are out of gliding range of the hill or landing field, you are an XC pilot and need the skill set that goes with this: airspace awareness, the ability to choose and use a remote landing field and the wisdom to decide early enough when to abandon your attempt to return to the hill.
Gliding awareness for non-glider pilots
2. Landing Fields
The same diagram shows the location of the main landing field, a secondary field which can be used if the grass is not being grown as a crop, and the emergency landing field for hang gliders only. Recently visiting pilots have been landing in other fields, often following each other in once one lands there. Please remember: YOU are the pilot in charge and you should plan your flight and then fly your plan. Your plan should include where you are allowed to land, and it is your responsibility to find this out. Read the guide, ask the locals but above all please don't just follow others into a field. We have a good relationship with the local farmers, but they get understandably annoyed if pilots land in random locations.
3. East Bowl.
The area surrounded by the East bowl of Parlick is a sensitive area used for grouse breeding and shooting, overseen by gamekeepers who are very zealous in their protection of their birds. Please do not land anywhere in the bottom of the bowl in the East - if in doubt top land or slope land as high as possible or head for the landing field.
Please follow this link to an updated site diagram - you can zoom in and click on any of the marked areas for more info. https://www.google.com/maps/d/viewer?mid=1wE2HUzy49xdly7TJ3dmAs68ETYug7D6k&ll=53.886307450189435%2C-2.598223589831605&z=14
The site guide will be updated shortly to reflect these changes.
The Pennine Soaring Club may not be the largest Hang gliding and Paragliding club in the UK (just yet!) but we're one of the most active and have certainly proved ourselves to be THE BEST! 
We have great flying sites to cover most wind directions with some of the best XC potential in the UK...
... and welcome visiting pilots to fly The Pennines with open arms. (See our site guide). Although we currently do not run a strict Members Only policy we would rather have you on our team. Not only because of the benefits to you, but also because over the years we have negotiated agreements with farmers and landowners and would like to keep them as happy with flying as we are! 
 As well as this website, we also have a facebook page at facebook.com/PennineSoaringClub.
If you really need any extra encouragement... browse through some of the most stunning and dramatic photos and videos taken by our very own club members in the galleries. This site is where we can upload and share our visual memories of a fantastic flying holiday, epic day out or simply a giggle while para-waiting.
To upload an image, simply join the Pennine Soaring Club and log on as a member. You can allocate your own space to upload and tag your photos… it's good to share!
Besides… it would be great to get to know you! Join The Pennine Soaring Club today!